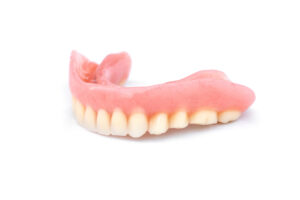 When you have tooth loss too severe for an individual dental implant or a bridge, then you may need a set of dentures. Our team can offer full and partial options, and even secure them with dental implants in some cases. In today's blog, your Conroe, TX, dentist talks about how we secure new smiles with custom dentures.
The Causes and Complications of Major Tooth Loss
Losing a substantial number of your natural teeth could limit your email options and as a result, deprive your body of essential nutrients. In addition, the gaps could make speaking clearly difficult for some people, and impact how you interact socially. The strain on your jaw joints could also leave you vulnerable to TMJ disorder and even bruxism (teeth grinding). The body will suspend the flow of calcium and phosphates to the areas around the missing roots, those portions of jaw structure breakdown, creating further tooth loss and a prematurely aged appearance. Which is why you need dentures to tackle your tooth loss.
Removable Full and Partial Dentures
A full denture contains a complete row of lifelike teeth set in an acrylic base, one that looks like gum tissues. A removable option is held in place with suction or a special adhesive. A partial addresses complicated cases of tooth loss with gaps spread out across the arch, containing new teeth in an acrylic base and being held in place with metal clasps that attach to remaining natural teeth. Both options are custom-made from lifelike materials to ensure a natural appearance, as well as a durable chewing surface.
Removable options need to be replaced as the jaw ridge changes shape, usually every five years or so. But if we insert dental implants and attach the prosthetic to them, this option will stimulate the growth of jawbone tissue to keep your jaw strong and healthy. As a result, your new teeth can last in place for decades to come, possibly even a lifetime.
Getting Started
If you're ready to tackle your tooth loss, then contact our team to schedule a consultation. We will carefully examine your smile to see which option, removable or implant, is right for you. We can help you start your journey to a full and beautiful smile. If you have any questions about our dentures, or how we craft and secure them, then contact our team today to learn more.
Your Conroe, TX, Dentist Offers Custom Prosthetics
We would love a chance to help you enjoy a complete smile again, whether that means creating removable prosthetics or securing a set of implant-supported options. For more information on rebuilding your smile with advanced and lifelike dental prosthetics, then contact The Dental Centre of Conroe in Conroe, TX by calling 936-441-4600 today.