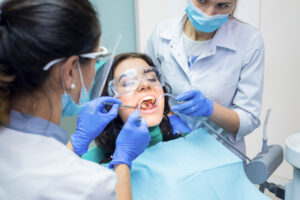 The ability to flaunt a vibrant and youthful smile is one that many patients strive to achieve. After all, a gorgeous smile is certainly a hot commodity. Indeed, there are a variety of cosmetic treatments out there that can help you accomplish this feat, and millions of people pursue these options every single year. Still, however, it is necessary to keep in mind that the most important factor to consider when caring for your teeth is your overall oral health. In today's blog, your Conroe, TX dentist discusses the need for preventive dental care, and how at-home care should be practiced in conjunction with in-office treatment.
Preventing Excessive Plaque Buildup
By now, you are likely aware that a healthy smile can only be accomplished by taking care of it daily. But how exactly does this process work, and how do you know you are doing enough for your smile? You see, your teeth develop a fuzzy and sticky substance as the day goes on known as plaque. Not only is plaque a detriment to that clean feeling you seek, but it can also cause infection and other concerns if it is not maintained.
You see, plaque houses harmful bacteria. Not only do these bacteria receive protection from harm, but they can increase your chances of developing tooth decay, gum disease, and more. As such, it is important you brush your teeth at least twice a day to help rid your structures of this substance and keep your teeth strong and healthy. To learn more about this process and how our team can help, give us a call today.
Why Flossing Matters
It is not enough to brush your teeth consistently, as your smile's health is comprised of more components than just your teeth. For example, have you considered the importance of your gum health and how your gums protect your teeth' roots? Indeed, food particles become stuck between structures all of the time, and without a method for removing them, they attract the same harmful bacteria that cause periodontal harm and infection. In other words, flossing is essential to gum health and maintenance, as it prevents gum disease from developing. To learn more about this process, reach out to our team today.
The Value of In-Office Care
Finally, no preventive dental routine would be complete without a regularly-scheduled checkup and cleaning. Though initially, you may believe this step is unnecessary for oral care, in reality, it is essential. You see, your checkup allows our team to monitor your smile development and ensure minor issues do not develop into major concerns. What's more? We can provide a thorough examination that identifies any harm, damage, infection, and more.
Schedule Your Next Appointment
Contact The Dental Centre of Conroe in Conroe, TX by calling 936-441-4600 to schedule your next appointment with our team and learn more about the need for quality preventive dental care.