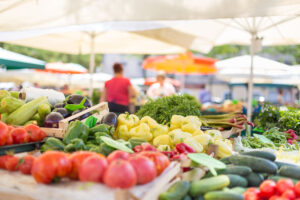 Each Friday, we like to take a break from our typical dental topics to focus instead on our community. In today's blog, your Conroe, TX, dentist is looking at two fun events happening this weekend that you and your family can enjoy. In addition, we hope you'll consider scheduling a visit soon for a checkup and cleaning, so you can start 2023 with a healthier smile!
Main Street Market
You can take advantage of Main Street Market every Saturday at 205 Metcalf Street in Conroe, at the corner of Metcalf and Main Street. The market is open from 10am until 2pm. They will be open rain or shine, and will feature foods and crafts grown and created by local farmers and artisans. You have a chance to find something unique, and also support local businesses and individuals in your community. You never know what you find! Admission is free, and this is fun for the whole family.
Sunday Funday
The Table at Madeley will be hosting Sunday Funday every Sunday from 1pm to 6pm at 316 Madeley Street on Conroe. Admission is free and this event is a great time for every member of your family. Each week there will be games, sports on the TVs, and food trucks too. There is often live music as well. A great way to relax after a long week, and recharge for the week to come. This is considered a must-attend event for residents and visitors to Conroe, TX.
See Us Soon
When was the last time you and your family visited the dentist? To maintain optimal oral health, people of all ages need to undergo a checkup and cleaning every six months. We can schedule a visit soon so you and your loved ones start 2023 with optimal oral health. We can address any issues you have, whether you need a filling or tooth replacement with advanced implant dentistry. We also have lifelike cosmetic treatments, and preventive care to help lower the risk of common issues like tooth decay and gum disease.
If you have any questions about our treatment options, then contact our team to learn more. We look forward to seeing you and helping you enjoy your best smile in this year and all the ones to come. A shining smile starts with a simple exam and cleaning visit, so contact our office soon!
Do You Need to See a Dentist?
Our team wants to help you enjoy your best possible smile in 2023 with preventive, cosmetic, and restorative treatment options. To learn more about our comprehensive treatment options, then contact The Dental Centre of Conroe in Conroe, TX by calling 936-441-4600 today. Our team wants to help you and your family enjoy good oral health.