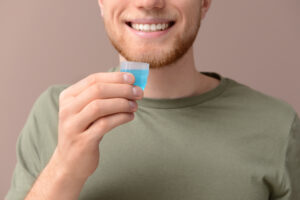 The only thing better than a healthy, lifelong smile is a minty-fresh finish. Indeed, mint is a popular flavor of toothpaste for a reason, and most individuals that utilize mint products report a fresher or cleaner sensation following its use. When combined with efforts to care for your pearly whites, it is no wonder so many patients swear up and down at the effects! In today's blog, your Conroe, TX dentist explores the benefits of utilizing mouthwash in your at-home preventive dental routine, as well as how it leaves your smile cleaner.
Caring for Your Smile
It goes without saying that preventive dental care is the name of the game when it comes to keeping your teeth clean and strong. After all, there are what seems like countless threats that plaque your smile's health, and the only natural line of defense your grin has involves the protective layer of enamel that surrounds your teeth.
Indeed, dental enamel certainly is one of the most – if not the most – durable substances created by the human body, and it takes a lot to break it down. This does not mean this process never occurs, however, and once enamel is gone, it is gone for good. As such, your dentist recommends practicing a well-rounded preventive dental routine at home to provide the ultimate in terms of oral protection, but what exactly does this mean?
You see, brushing may be the foundation of your at-home routine, but relying on brushing alone is a disservice to your structures. For example, reaching all aspects of your grin may prove more difficult than you expect, and in cases such as these, additional care in the form of mouthwash can help. To learn more about this process and how our team can help, give us a call today.
A More Thorough Clean
You have taken care of your smile long enough to recognize that not every area receives the same amount of care. For instance, reaching your back molars is rather difficult, as you can only open your mouth so wide. Further, awkward angles such as reaching the back of your top front teeth can be troubling.
In an effort to provide a more thorough clean, utilizing mouthwash in your routine works wonders. For more information about this process and what steps you can take for a healthier smile, give our office a call.
Fresh Breath
In addition to a more thorough clean, mouthwash benefits your oral health by providing fresher breath. This not only communicates that you are on top of your oral hygiene practices, but that you genuinely care about your health!
Learn More Today
Contact The Dental Centre of Conroe in Conroe, TX by calling 936-441-4600 to schedule your next appointment with our team today, and learn how using mouthwash in your dental routine can enhance your oral health.