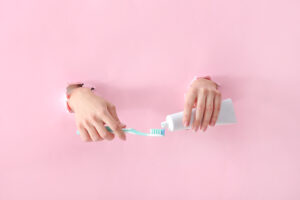 Taking care of your smile daily is necessary, especially if you are aiming to maintain a vibrant grin for life. Indeed, a consistent regimen of brushing is the foundation of effective oral care, however, it is certainly not the only step you must consider taking. As a matter of fact, your oral health is influenced by a variety of factors, including your teeth, tongue, gums, and more. In today's blog, your Conroe, TX dentist discusses the importance of maintaining a well-rounded preventive care routine and how flossing can lead to effective periodontal care.
The Dangers of Gum Disease
It goes without saying that there are a significant number of factors out there that negatively influence your oral health. From the foods and beverages you consume to the level of preventive care you provide your smile and everything else in-between, there is not much that your structures are truly safe from.
One such factor to be on the lookout for is periodontal disease. Indeed, periodontal disease – more commonly referred to as gum disease – occurs when oral bacteria target your teeth roots and cause plaque to form beneath the gum line. More often than not, this process is initiated by food particles that become lodged between teeth. As these particles exist, they attract oral bacteria to the site to feed off of them, essentially attracting them to the roots.
Without proper care, gum disease can lead to inflammation and bleeding, teeth gums separating from the teeth, and even structures falling out on their own. To learn about your options and what the best steps are for treatment, give our team a call today.
Steps to Floss at Home
Though brushing your teeth is the foundation of at-home care, no routine is complete without flossing. While you may believe flossing to be nothing more than just another to-do that your dentist set forth, in actuality, it is pertinent to effective gum care and health.
Indeed, flossing removes the food particles that attract bacteria to the gums, allowing for stronger tissues and a less-likely chance that you will experience significant periodontal concerns. In fact, your dentist recommends flossing after every meal to provide your grin with the best chances of success. Contact our team to learn more today.
Additional Treatment to Consider
If you begin to notice some sensitivity or discomfort in the gums, your dentist may suggest a scaling and root planing treatment to rid the roots of plaque deposits that may have formed. The next time you come in for your appointment, ask our team about your scaling and planing options.
Schedule Your Visit
Contact The Dental Centre of Conroe in Conroe, TX by calling 936-441-4600 to schedule your next appointment with our office, and learn more about the importance of effective periodontal care.