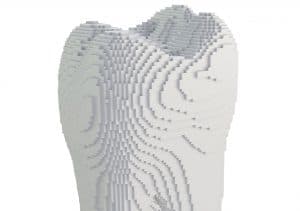 Using technology to customize and enhance modern treatment options is an important part of modern dentistry. For example, the use of solutions like digital imaging and onsite CAD/CAM technologies have helped vastly improve the results and procedures of many traditional dental treatments, such as the placement of a custom-designed dental crown. Our advanced CEREC same-day dental restoration system can allow us to design, create, and place your highly lifelike dental crown in just one visit, so you can enjoy the benefits of restoring your severely damaged tooth much sooner.
When a tooth needs a dental crown
Placing a dental crown over a tooth is a common way to address several different, typically severe, concerns with your tooth structure. A dental crown is designed to replicate the top, visible portion of your tooth. This is also called the tooth's crown and is responsible for filling out your smile, biting and chewing your food, and maintaining your bite's balance. A custom dental crown largely takes over these responsibilities for the tooth when it's health and structural integrity are compromised, while simultaneously preventing the tooth structure from becoming damaged even further.
Crafting and placing the crown the same day
Because severe levels of tooth damage can continue to grow worse, it's important to restore the tooth's structure as soon as possible. However, if a dental crown is the best option for restoring it, then typically, the process can take up to several weeks to complete. During one visit, your dentist will prepare and measure the tooth for the crown, then send the measurements and a mold of your tooth and dental ridge to a trusted technician at an off-site dental lab. However, CEREC's digital CAD/CAM technology allows us to digitally measure the tooth and have an on-site digital milling machine craft the custom-designed dental crown immediately.
The advantages of a CEREC dental crown
CEREC's same-day restoration capabilities help us significantly streamline the process of receiving a customized, high-quality dental crown. Yet, saving time in your treatment process is only one of the many benefits that come with receiving a same-day dental crown. For example, restoring a fractured or broken tooth in just one day can lower the risks of the tooth becoming more damaged by the time your dental crown is placed. Also, the highly precise digital imaging and incredibly lifelike dental porcelain used to craft your dental crown help provide a higher level of realism and, as a result, more cosmetically pleasing results for your tooth restoration.
Fix your tooth in one day with a CEREC crown
When your tooth is severely fractured or broken, a dental crown may be the best solution to restore it. With CEREC technology, you can receive your dental crown in just one day. To learn more, schedule a consultation by calling the Dental Centre of Conroe in Conroe, TX, today at (936) 441-4600. We serve patients from Conroe and all neighboring communities.