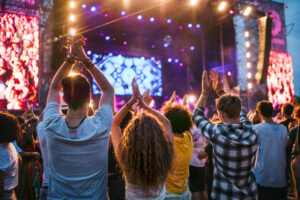 We are officially a week into 2022, and so far, this year is much better than the last! In our previous community blog post, we provided a few fun-filled events in the city of Conroe to help ring in the new year. While there are even more opportunities for this year than the last, we also encourage our patients and families to stay safe in the wake of new COVID-19 variants. In today's community blog, your Conroe, TX dentist explores some of the awesome events taking place in the area this weekend to help kickstart 2022 and make it an excellent year!
First Friday Flights
To get things started and really lay the foundation for a good time, B|E Winery is going to host a monthly event known as First Friday Flights. Indeed, this Friday, January 7, 2022, from 5:30 to 7:30 p.m., B|E Winery's tasting room will be open for the first event of the year. Each month will highlight a specific varietal, region, or winery. Further, the event will feature a 2 oz sample of each of the wines being served, in addition to heavy appetizers prepared and served by Chef Michael's kitchen. There will also be an assortment of cheeses and fresh fruit available during the event.
Tickets include all of the features listed above and can be purchased for $25 in advance on the website, located here. Tickets are also available at the door, and each event will take place at B|E Winery at 400 Bryant Rd, Ste 103 in Conroe, TX 77303.
SSBC 90's Day
Nothing is better than enjoying a little taste of the '90s, and if this sentiment resonates with you, then look no further than this next event. Indeed, this Saturday, January 8, 2022, from 12:00 p.m. noon to 10 p.m., join the staff of Southern Star Brewing Co. for 90's Day!
90's day is a themed trivia day that will feature some quality 90's tunes with Live Strangers and Safe Distance. This event will take place at Southern Star Brewing Co., 3525 N. Frazier St. in Conroe, and more information can be found here on the event page.
Music at 202 Main
Finally, if you are a fan of music and enjoy supporting your local community members, then come on out to see Taylor Graves at 202 Main! Taylor graves is a singer/songwriter from College Station in Texas who also was a finalist for American Idol Hollywood Week. Her music is a blend of new school folk country and sultry classic soul. What's more? She will be performing this Saturday, January 8, 2022, at 9:00 p.m. For more information about this event, check out the website here.
Schedule Your Appointment
Remember to stay safe and warm this weekend while enjoying some of what Conroe has to offer. When you are ready to schedule your appointment with our team, contact The Dental Centre of Conroe in Conroe, TX by calling 936-441-4600.