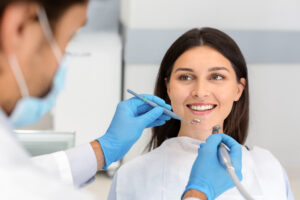 There are various aspects of dentistry that are designed to help protect your teeth and other oral structures from infection and disease. For instance, dental prevention in the form of flossing may seem unnecessary to some, but the truth of the matter is that it is essential to adequate gum or periodontal health. What's more? There are a number of factors that can pose a significant threat to your smile's health and integrity, and as such, it is important to provide effective care that considers this truth. In today's blog, your Conroe, TX dentist discusses the major benefits of attending your routine preventive visit, including prioritizing your oral health.
The Role of Preventive Visits
It goes without saying that dentistry in and of itself is a complex area of practice. After all, there are many more considerations to make than just the health of your teeth, as your health is influenced by all of the components in the oral cavity. This includes your teeth, roots, gums, cheeks, throat, lips, and other tissues contained in the mouth. As such, it is not enough to simply brush your teeth every day, and our team encourages you to consider a more well-rounded approach.
At home, your dentist recommends brushing, flossing, using mouthwash to reach hard-to-access areas, and of course, paying attention to the ways certain foods and beverages interact with smile. An effective preventive dental routine does not stop there, however, as a routine checkup and cleaning are part of in-office care considered essential to your smile's health.
Indeed, your checkup is an excellent way to take an in-depth look at your structures and have a professional provide guidance to better steer your oral care. For more information about this process and scheduling a visit, give our team a call today.
Putting Your Best Foot Forward
Though you do not have to visit our office nearly as much as you have to brush your teeth, our team recommends attending an examination and cleaning visit at least once every six months in order to ensure your grin is up-to-par. Further, we recommend attending your visit sooner rather than putting it off in order to provide your grin the best level of care possible. Give our team a call today to learn more.
Using Your Benefits Before They Expire
In addition to maintaining proper oral health, our staff encourages our patient families to schedule their checkups and cleanings before the year is out in order to utilize your benefits. Bear in mind that promotions, benefits, and other perks may expire at the end of the year, so use them before they are gone.
Schedule an Appointment
Contact The Dental Centre of Conroe in Conroe, TX by calling 936-441-4600 to schedule your next visit with our team and learn more about the benefits of attending preventive dental visits today.