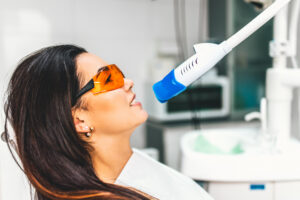 While your smile's health is the most important factor to consider when looking at dental treatment, that does not mean non-emergency treatment such as cosmetic enhancement is not a valid option. In fact, many people strive to maintain a bright and jubilant smile well into their adult lives, as it often communicates positive things about a person's level of hygiene, confidence, and overall outlook on life. In today's blog, your Conroe, TX dentist explores simple solutions for noticeable stains and discusses the benefits of dental whitening.
You Can Benefit from Cosmetic Care
From a young age, your parents likely emphasized the importance of taking care of your pearly whites. After all, there are several bacteria- and non-bacteria-related concerns that could negatively influence your grin, and unfortunately, not nearly as many natural protections. This warrants the need for regular dental prevention in the form of brushing your teeth twice a day, flossing in-between meals, and of course, rinsing using an antiseptic mouthwash.
Though dental prevention is essential for bacteria-related issues, there are other concerns that prevention cannot address. For instance, developing a noticeable stain or blemish in your grin can significantly detract from your smile's overall appearance, causing a person to experience a dip in confidence as well.
There is nothing wrong with wanting to look and feel great in your own skin, and cosmetic dentistry can help. You see, cosmetic treatment can be considered any dental treatment that aims to reduce the appearance of noticeable smile blemishes through surface-level, noninvasive treatment. Though there are different options you can pursue to address specific needs, nothing is better suited for stains than dental whitening. To learn more about this process and how our team can help, give us a call today.
In-Office Whitening Treatment
To address the effects of age or the development of noticeable stains, your dentist may recommend in-office teeth whitening. Teeth whitening is a process that involves applying a strong but safe bleaching agent to the surfaces of the teeth and activating the material using a special light.
Over the next few days following treatment, you will begin to notice your grin brightening up to several shades. The best part? It only requires one visit to complete. Contact our team to learn more about this process.
Solutions to Pursue at Home
If making it into the office is not a viable option, do not fret! We offer take-home trays that can be used to enhance your grin at your own convenience. Our team is more than happy to help you achieve your smile goals in the best way for you!
Learn More Today
Contact The Dental Centre of Conroe in Conroe, TX by calling 936-441-4600 to schedule your next appointment with our office and learn more about the major benefits of dental whitening.