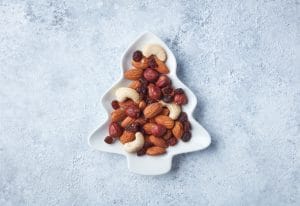 One thing that would be absolutely lovely as the weather gets even chillier and the holidays get even closer? Just letting loose and completely frolicking through this merry season without a care in the world! We know. It's quite a dreamy, wonderful thought. Unfortunately, it's just not realistic! The good news, though, is that you can still relax and have a wonderful experience. Our Conroe, TX team reminds you that it's just important you reel things in a tiny bit, so your oral health makes it through unscathed. The underlying message? Just don't go "nuts" this year (details to follow)!
Use A Nutcracker, Not Your Teeth
Whatever you do this holiday season, we strongly suggest you are very careful with the nuts that abound this time of year! Whether you like to show your strength by cracking open hard-to-break shells with your fingers, you've got some other sort of party trick, or the dinner you're attending has adorable or chic nutcrackers out on the table, always keep the following in mind: Do not by any means use your teeth to remove the shell from a nut. Ever! This will help you avoid shattering your tooth and realizing your holidays have been interrupted with the immediate need for a dental crown (and possibly more).
Watch For Unexpected Nuts In Desserts
It's not always the nuts that you can see but often those that you didn't even realize were present that can also lead to oral health damage. How to avoid something you cannot even detect without taking a bite, you ask? Take a closer look. We remind you that foods like brittle, bark, cookies, breads, cakes, brownies, and more may have hard pieces of nuts in them that you never may have even considered!
Bottom Line: Investigate And Ask Questions First!
Get some additional details about the ingredients used to make what you're about to consume. Some very simple detective work is often the difference between smile damage and oral health that remains in lovely condition. You may feel a bit shy about it at first but the good news is that by just breaking apart the food you're about to eat, by asking a quick question or two, by reading an ingredients list, and more, you're avoiding some potentially severe consequences!
Make Your Holiday Meal Smile Safe
Enjoy this merry season and all while you keep your teeth nice and safe, so you can have fun without ending up with a damaged grin! Get in touch with us today if you have any last minute smile care needs. Come in for a visit in Conroe, TX by scheduling a visit with the Dental Centre of Conroe by calling (936) 441-4600. We serve patients from Conroe and the neighboring communities.