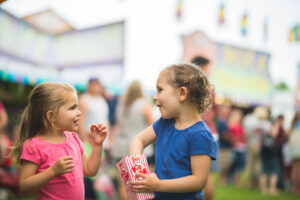 Do you have plans for your family for the weekend? If not, then we have a few suggestions! From Main Street Market to KidzFest and a Jazz Festival, there is plenty to see and do in Conroe, TX, this weekend. In addition, we want to remind our patients and their families that we're ready to see them, so they can attend events like these with bright and healthy smiles!
Conroe KidzFest
Conroe KidzFest is a huge annual event that takes place in our community. This year's event will take place on Saturday, April 29th and crowds are expected to reach 15,000 people! Admission is free, and the event takes place at 500 Metcalf Street. You can find free parking at the garage on 111 West Davis. You and your family can enjoy fun activity villages, live music and entertainment, inflatables and game booths, face painting, water activities, train rides, and there will be plenty of food vendors on hand when you need a snack or a meal. You can find out more right here.
Main Street Market
Your next Main Street Market takes place on Thursdays, April 27th at the Founder's Plaza on 205 Metcalf Street. Admission is free and the market is open from 6pm until 9pm. This is a monthly event, taking place on the 4th Thursday of each month. You and your family can find items from local vendors and farmers, as well as chefs and artisans of all kinds. Learn more right here.
Jazz Fest
Don't miss the Jazz Fest this Saturday from 1pm until 4pm at The Lake Hours at Grand Central Park, 1039 Lake House Drive. You can catch performances from local artists, such as Bayou Funk and Raquel Cepeda. The Boomtown Brass Band will be leading a Second Line Parade, and there will be balloon artists, face painters, and more. This is a family friendly event, and you can find food tricks, and plenty of beer and wine for sale too. Be sure to bring your picnic blankets and lawn chairs too. To plan your trip, find key details right here.
Schedule Your Family's Next Visit
If you want to help your family attend events like these with a bright and healthy smile, then be sure to get started with a checkup and cleaning with our team. We can find out if you need treatments like dental fillings or dental implants, and offer a comprehensive approach to family dentistry.
Your Conroe, TX, Dentist Offers Care for the Whole Family
We want to help the whole family enjoy their best possible smiles! For more information on scheduling a visit and starting treatment, then contact The Dental Centre of Conroe in Conroe, TX by calling 936-441-4600 today.