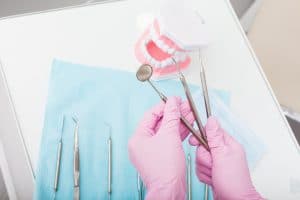 Dental emergencies can be unsettling for several different reasons. Given the nature of most emergencies, they can often involve severe levels of discomfort, which can itself be disconcerting. They can also involve significant damage or infection to your tooth structure, or tooth being knocked out completely, which can be worrisome due the continuing impacts of tooth loss to the rest of your oral health. Fortunately, the right emergency dental treatment can help you address and alleviate the concern.
If your emergency is a damaged tooth
Damage to your tooth structure can come in a variety of different forms, and can pose different levels of threat to your oral health depending on how severe the damage is. In every case, however, tooth damage will continue to grow worse until you actively treat it, which makes addressing the damage and restoring your tooth an emergency concern for your oral health. Because tooth damage can occur to varying degrees, tooth restorations can also come in different shapes and sizes. For example, tooth bonding or a porcelain veneer may be appropriate for minor cases of tooth damage, while a custom dental crown may be best for restoring a severely damaged tooth.
If your tooth is infected on the inside
Tooth infection, also known as tooth decay, is one of the most common dental health concerns, and because it's so common, it can be easy to forget how much of an emergency it is to your smile. Tooth decay, which causes cavities to form, can grow progressively worse every day, eroding more and more of your natural tooth structure in the process. In severe cases, the infection will reach the internal chamber of your tooth, known as the pulp, and the nerves and blood vessels inside of it. Preventing this and saving your tooth, or addressing the more severe decay with root canal treatment, can be the most appropriate treatment for mitigating the threat to your smile.
If your tooth is lost or knocked out
In many emergency dental situations, the concern is severe enough to cause immediate tooth loss, or to make the loss of the tooth inevitable. Losing a tooth is serious for many different reasons, and treating the condition by replacing the tooth as soon as possible will be essential to preserving your smile. For many patients, the most successful replacement for a lost tooth is a dental implant restoration, which reestablishes the root that supported the tooth as well as its visible structure.
Find the best treatment for your dental emergency
Depending on the nature of your dental emergency, the best treatment for it will be one that's custom designed to address your specific concern. To learn more, schedule a consultation by calling the Dental Centre of Conroe in Conroe, TX, today at (936) 441-4600. We serve patients from Conroe and all neighboring communities.